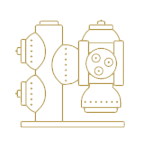 ---
Our Service division performs onsite works like maintenance, inspection, modification, overhaul, extensions on former GANZ and other brands of switchgears.
Our activity is mainly focused on the existing substations and equipment. With our up-to-date measuring instruments and well-qualified labor, GANZ can perform all interventions on-site to reduce the outage of the substation to keep the distributor and transmission system provider's interest on the top level.
Additionally, the Service division performs spare part manufacturing activities for the existing switchgears.
Due to the above works the department can increase the lifetime of the equipment by decades.
---
With our measuring instruments we perform the below measurements:
contact resistance measurement,
HV measurement up to 750 kV,
switching time and current of DS/ES/HSES,
isolation and dielectric measurement on the secondary circuit,
SF6 analyzing, moisture reduction with additional filter bags,
PD measurement (onsite and during HV test),
gas leakage detection, annual loss measurement,
CT, VT measurement (Ratio, error, knee point),
online monitoring systems (PD, SF6).
All measurements can be performed on-site or in our factory. In case of our partner's requirements, the service department can provide professional support during site assembly/disassembly.
Ganz can provide design and erection support for the extension of the existing substations as well.
---
Our division has highly qualified employees who can be deployed in all fields. Our goal is to perform the work to a high standard matching the regulations of the given countries. Our employees are able to perform offshore works thanks to the following qualifications:
Sea survival (GWO)
HUET (GWO)
First aid (GWO)
Manual Handling (GWO)
Work at hights (GWO)
SF6 gas handling
SCC Certificate