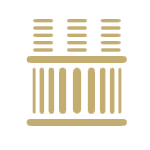 ---
The history of the Power Transformer factory dates back 130 years as the first transformer in the work was built by Ganz in 1885.
The factory is located in Tápiószele, 80 kilometres from the capital city of Budapest. The Transformer division specializes in the design, manufacture and testing of substation transformers, generation transformers, auxiliary  transformers, mobile transformers and traction transformers from 20 to 600 MVA (1000 MVA for autotransformers) from 52 to 800 kV.
With more than 130 years of experience as the heir to Ganz Works, Ganz Transformers and Electric Rotating machines Ltd. is partner in finding the right solutions to meet the challenges of customized transformers:
The plant is specialized in special transformer application and tailor made design.
We are market leaders in the manufacturing of Biofluid immersed power transformers, which provide safe solutions for special requirements of fire protection, environmental safety, space limitations and cost savings.
The factory has produced transformers with outstandingly low-noise requirements since the beginnings, fulfilling successful the most extreme requirements of the German and Scandinavian markets.
We have an excellent record for short-circuit test results with one of the highest reliability numbers since 1987, proving our design and manufacturing rules.
FROM DESIGN
TO ENERGIZATION
---
Our designers are familiar with all international and national standards. Every transformer is individually designed to its specific requirements.
We use commercial and developed software during the design process to increase product reliability for the following analysis:
loss and noise calculation,
voltage distribution calculation and FEM electrical field analysis,
short-circuit resistance calculation,
eddy current loss and heat calculation,
earthquake resistance calculations.
---
In our state-of-the-art facility, the following manufacturing works are carried out in workshops separated according to workflow:

Winding workshop: dust proof covering, air conditioning, slight overpressure
Inspection point before drying
Computer controlled, full parameter driven process optimization: temperature, vacuum, water extraction
---
Impulse voltage test
Separate source voltage test
700 kV/350 kVA
350 kV/175 kVA
60/30/10 kV/1300 kVA
Induced voltage test
170 Hz
66 kV supply
background fractional PD level: < 15 pC
Short circuit and heat run tests
---
Our factory has its own service team – 95% of our transformers are installed and commissioned by ourselves. Our services also cover on-site testing and, on request, staff training.
Since 1990 we have contributed to a total performance of 42524 MVA
Hungary | 10 251 MVA
Norway | 4 007 MVA
United Kingdom | 3 816 MVA
Netherlands | 2 237 MVA
French | 2166 MVA
Our domestic and international projects